News Archive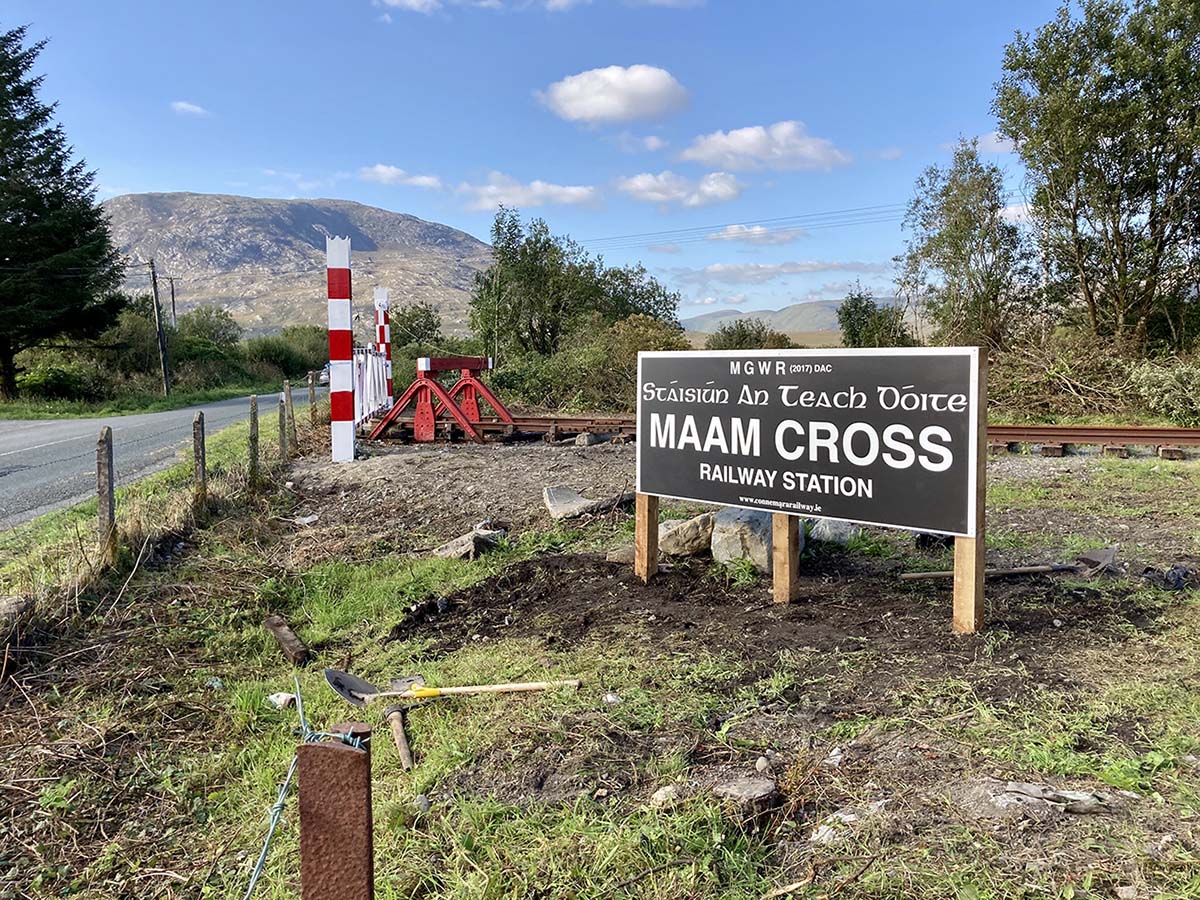 12/11/2022 Extending the tracks eastwards towards Oughterard
16/10/2022 Commencement of laying 5'3" track along our goods loading bank
14/10/2022 Arrival of our recently acquired Well wagon and platform seats from Irish Rail
8/10/2022 The work on the signal cabin is almost complete
24/09/2022 Recent arrivals to Maam Cross: 3 ballast wagons, a plough van and two oil tankers
17/09/2022 Work continues through the autumn
3/09/2022 Updates on the signal cabin
19/08/2022 Connemara railway have acquired a very rare vintage carriage: The third class corridor coach number 813 of the Great Southern and Western Railway
6/08/2022 5'3″ tracks are being laid.
14/07/2022 Progress on Maam Cross signal cabin.
29/05/2022 Our signal cabin has now been fitted with a fully interlocking lever frame
8/05/2022 Celebrating 175 years of railway engineering at inchicore works
23/04/2022 Work continues on moving 5'3″ track panels out along the trackbed for laying in due course
29/03/2022 The rebuilding of our signal cabin is almost complete
26/02/2022 Rebuilding the Maam Cross signal cabin
26/02/2022 Rebuilding the culvert
29/01/2022 First photos of the signal cabin being rebuilt
29/01/2022 Work done on the site the 29 of January
28/12/2021 Laying tracks at Maam Cross
27/12/2021 Preparing the trackbed at Maam Cross – for track laying Tuesday December 28 2021! (video)
10/12/2021 Aerial view of our station at Maam Cross
29/11/2021 Building a replacement Signal Cabin at Maam Cross
27/11/2021 More work being done today in Maam cross
7/10/2021 Three truckloads of track panels arrived at Maam Cross today!
20/09/2021 Book launch – Photos
18/09/2021 Book launch "Rails through Connemara – The Galway-Clifden Railway"
21/08/2021 On Saturday August 21st four truckloads of 30' track panels arrived at Maam Cross from Irish Rail's Portlaoise Permanent Way Depot
26/06/2021 Latest video showing First Class rail travel in Connemara since 1935!
16/06/2021 Fabulous photos taken by Eamon Greville in June 2021!
5/06/2021 Busy day at Maam Cross Saturday June 5th. Our volunteers hard at work!
22/05/2021 New video from the air by Neil Dinnen
3/10/2020 Another great day in our quest to see trains running once again through the savage beauty of Connemara!
10/04/2021 More testing at Maam Cross, taking advantage of the beautiful Spring weather
10/04/2021 First Class train travel in Connemara
16/03/2021 Happy St Patick's Day
25/01/2021 Maam cross latest
19/12/2020 More work being done today in Maam cross
19/09/2020 More work done on the site during the weekend of the 20-21 Sept
07/09/2020 New level crossing gates
25/07/2020 "Railway revival: Steam trains set to return to Connemara almost a century on." Article published in the Irish Times dated 25 July
13/07/2020 Video introduced by Éamon Ó Cuív, grand son of Éamon de Valera
27/06/2020 Work continues at Maam Cross
21/06/2020 More Work at Maam Cross: video
16/06/2020 Work continues at Maam Cross
23/05/2020 As per the Government Road Map re Covid 19 we were able to reopen our site at Maam Cross to continue (voluntary) work to bring trains back to Connemara.
Currently, we are constructing a temporary' Pop Up' 3' narrow gauge railway to allow us to run a train this year – the 125th anniversary of the opening of the Galway to Clifden in 1895!
Read more..
15/04/2020 Steam to launch Connemara railway project
21/02/2020 Connemara Railway launches a GoFundMe campaign to raise funds for the project
13/02/2020 First track due to arrive on Saturday 14-02-2020
02/08/2019 Final Grant of Permission (C3)
17/06/2019 Decision to Grant Permission
20/02/2019 Support the Project today – Appeal for funds
03/02/2019 Download Our New Brochure
30/11/2018 latest requests from Galway County Council ( GCC ) – for further information:
25/09/2018 Download the planning application submitted to Galway County Council:
Planning-application.pdf (Planning Ref No. 18/1357)