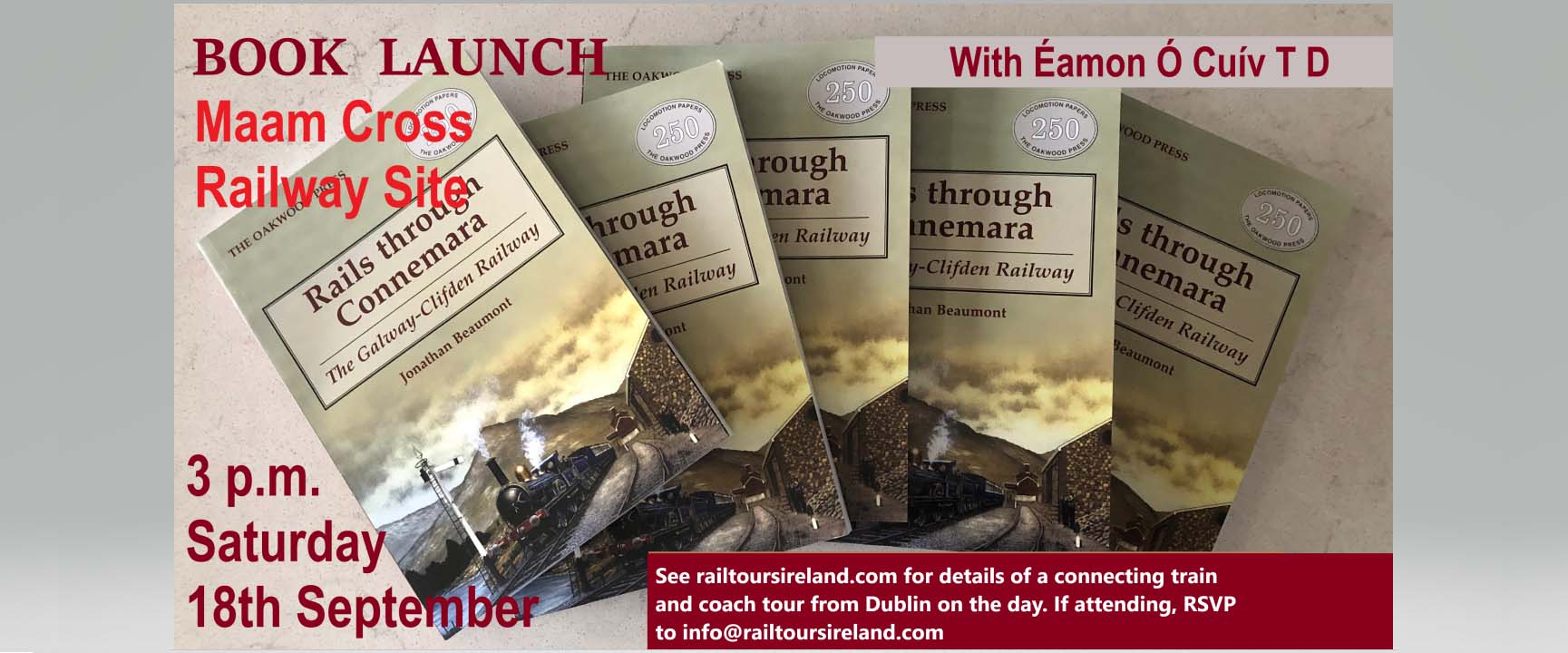 Rails through Connemara
Saturday 18 September 2021 – 3PM
Maam Cross Railway Station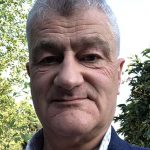 Written by renowned railway historian Jonathan Beaumont, author of Rails to Achill, Achillbeg – The Life of an Island, Rails Through the West, among other publications, this book Rails through Connemara is the story of the railway from Galway to Clifden, plus other proposed railway schemes in the region, from conception to construction, operation and conclusion when replaced by road transport in the 1930s.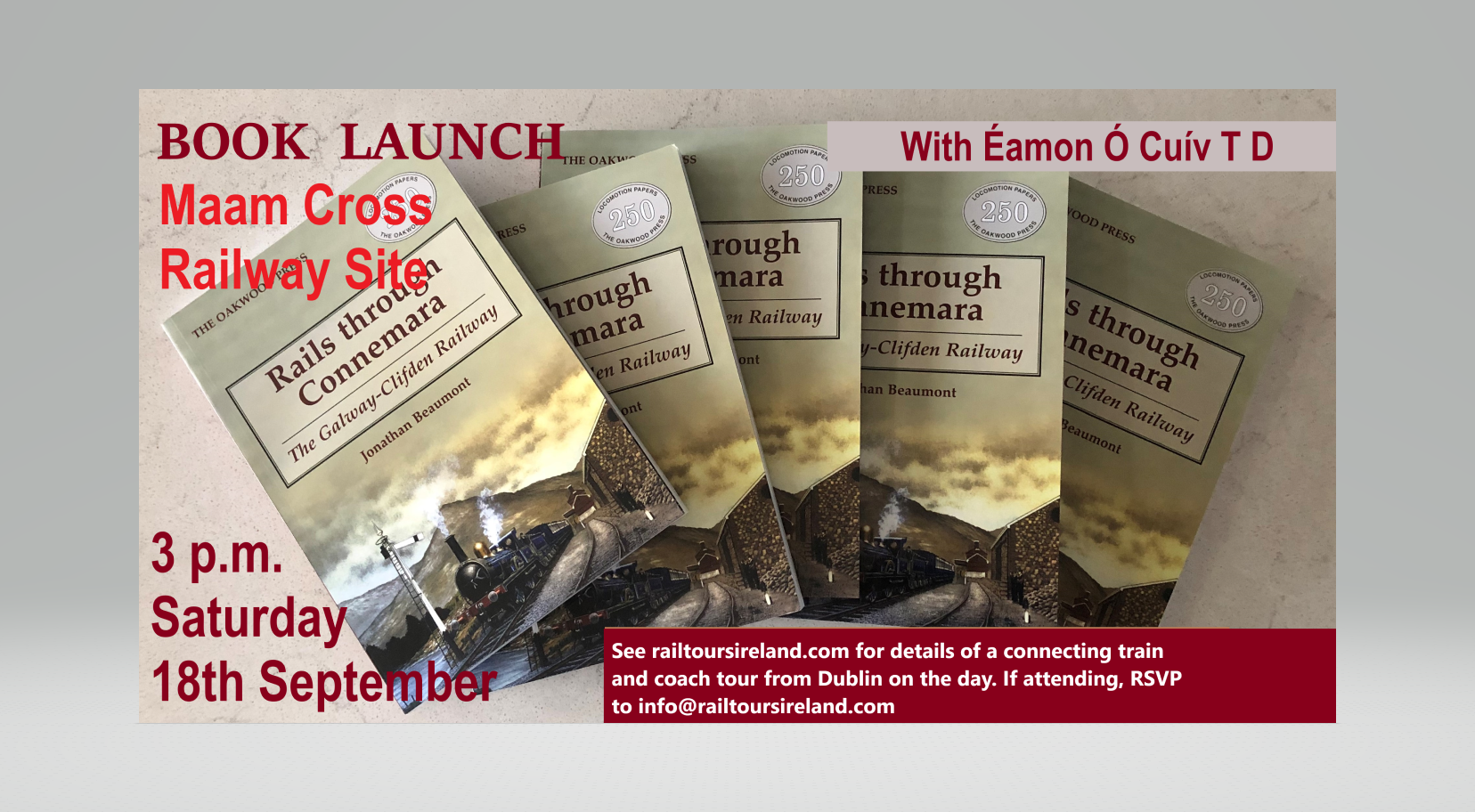 '𝘛𝘩𝘦 𝘣𝘰𝘰𝘬 𝘣𝘦𝘨𝘪𝘯𝘴 𝘸𝘪𝘵𝘩 𝘢𝘯 𝘢𝘤𝘤𝘰𝘶𝘯𝘵 𝘰𝘧 𝘊𝘰𝘯𝘯𝘦𝘮𝘢𝘳𝘢, 𝘪𝘯 𝘵𝘩𝘦 𝘸𝘦𝘴𝘵 𝘰𝘧 𝘐𝘳𝘦𝘭𝘢𝘯𝘥, 𝘢𝘯𝘥 𝘵𝘩𝘦 𝘷𝘢𝘳𝘪𝘰𝘶𝘴 𝘴𝘤𝘩𝘦𝘮𝘦𝘴 𝘱𝘶𝘵 𝘧𝘰𝘳𝘸𝘢𝘳𝘥 𝘵𝘰 𝘭𝘪𝘯𝘬 𝘪𝘵𝘴 𝘵𝘸𝘰 𝘮𝘢𝘪𝘯 𝘴𝘦𝘵𝘵𝘭𝘦𝘮𝘦𝘯𝘵𝘴, 𝘎𝘢𝘭𝘸𝘢𝘺 𝘢𝘯𝘥 𝘊𝘭𝘪𝘧𝘥𝘦𝘯. 𝘛𝘩𝘦 𝘧𝘪𝘳𝘴𝘵 𝘰𝘧 𝘵𝘩𝘦𝘴𝘦 𝘸𝘢𝘴 𝘱𝘳𝘰𝘱𝘰𝘴𝘦𝘥 𝘪𝘯 1860, 𝘣𝘶𝘵 𝘪𝘵 𝘸𝘢𝘴 𝘰𝘷𝘦𝘳 30 𝘺𝘦𝘢𝘳𝘴 𝘣𝘦𝘧𝘰𝘳𝘦 𝘵𝘩𝘦 𝘭𝘪𝘯𝘦 𝘸𝘢𝘴 𝘣𝘶𝘪𝘭𝘵 𝘣𝘺 𝘵𝘩𝘦 𝘔𝘪𝘥𝘭𝘢𝘯𝘥 𝘎𝘳𝘦𝘢𝘵 𝘞𝘦𝘴𝘵𝘦𝘳𝘯 𝘙𝘢𝘪𝘭𝘸𝘢𝘺 𝘸𝘩𝘰 𝘰𝘱𝘦𝘳𝘢𝘵𝘦𝘥 𝘪𝘵 𝘶𝘯𝘵𝘪𝘭 1925 𝘸𝘩𝘦𝘯 𝘵𝘩𝘦 𝘨𝘰𝘷𝘦𝘳𝘯𝘮𝘦𝘯𝘵 𝘴𝘩𝘪𝘦𝘥 𝘢𝘸𝘢𝘺 𝘧𝘳𝘰𝘮 𝘕𝘢𝘵𝘪𝘰𝘯𝘢𝘭𝘪𝘴𝘢𝘵𝘪𝘰𝘯 𝘣𝘶𝘵 𝘮𝘦𝘳𝘨𝘦𝘥 𝘢𝘭𝘭 𝘳𝘢𝘪𝘭𝘸𝘢𝘺𝘴 𝘰𝘱𝘦𝘳𝘢𝘵𝘪𝘯𝘨 𝘰𝘯𝘭𝘺 𝘪𝘯 𝘐𝘳𝘪𝘴𝘩 𝘍𝘳𝘦𝘦 𝘚𝘵𝘢𝘵𝘦 𝘪𝘯𝘵𝘰 𝘎𝘳𝘦𝘢𝘵 𝘚𝘰𝘶𝘵𝘩𝘦𝘳𝘯 𝘙𝘢𝘪𝘭𝘸𝘢𝘺𝘴. 𝘛𝘩𝘦 𝘭𝘪𝘯𝘦 𝘤𝘭𝘰𝘴𝘦𝘥 𝘪𝘯 1935. 𝘎𝘪𝘷𝘦𝘯 𝘵𝘩𝘦 𝘧𝘶𝘭𝘭 𝘖𝘢𝘬𝘸𝘰𝘰𝘥 𝘵𝘳𝘦𝘢𝘵𝘮𝘦𝘯𝘵 𝘵𝘩𝘦𝘳𝘦 𝘢𝘳𝘦 𝘦𝘭𝘦𝘷𝘦𝘯 𝘤𝘩𝘢𝘱𝘵𝘦𝘳𝘴 𝘪𝘯𝘤𝘭𝘶𝘥𝘪𝘯𝘨 𝘛𝘳𝘢𝘪𝘯 𝘚𝘦𝘳𝘷𝘪𝘤𝘦𝘴, 𝘓𝘰𝘤𝘰𝘮𝘰𝘵𝘪𝘷𝘦𝘴 𝘢𝘯𝘥 𝘙𝘰𝘭𝘭𝘪𝘯𝘨 𝘚𝘵𝘰𝘤𝘬 𝘢𝘯𝘥 𝘙𝘰𝘢𝘥 𝘚𝘦𝘳𝘷𝘪𝘤𝘦𝘴. 𝘈𝘱𝘱𝘦𝘯𝘥𝘪𝘤𝘦𝘴 𝘪𝘯𝘤𝘭𝘶𝘥𝘦 𝘵𝘩𝘦 𝘚𝘩𝘢𝘯𝘵𝘢𝘭𝘭𝘢 𝘚𝘪𝘥𝘪𝘯𝘨, 𝘛𝘰𝘶𝘳𝘪𝘴𝘮 𝘢𝘯𝘥 𝘵𝘩𝘦 𝘙𝘦𝘤𝘦𝘴𝘴 𝘏𝘰𝘵𝘦𝘭, 𝘛𝘩𝘦 𝘜𝘭𝘴𝘵𝘦𝘳 & 𝘊𝘰𝘯𝘯𝘢𝘶𝘨𝘩𝘵 𝘓𝘪𝘨𝘩𝘵 𝘙𝘢𝘪𝘭𝘸𝘢𝘺 𝘢𝘯𝘥 𝘛𝘩𝘦 𝘔𝘢𝘳𝘤𝘰𝘯𝘪 𝘙𝘢𝘪𝘭𝘸𝘢𝘺, 𝘊𝘭𝘪𝘧𝘥𝘦𝘯. 𝘛𝘩𝘦 𝘪𝘭𝘭𝘶𝘴𝘵𝘳𝘢𝘵𝘪𝘰𝘯𝘴 𝘤𝘰𝘮𝘱𝘳𝘪𝘴𝘦 𝘱𝘩𝘰𝘵𝘰𝘨𝘳𝘢𝘱𝘩𝘴 𝘰𝘧 𝘴𝘵𝘢𝘵𝘪𝘰𝘯𝘴, 𝘴𝘪𝘨𝘯𝘢𝘭𝘴, 𝘢𝘯𝘥 𝘵𝘪𝘤𝘬𝘦𝘵𝘴 𝘢𝘴 𝘸𝘦𝘭𝘭 𝘢𝘴 𝘮𝘢𝘱𝘴, 𝘤𝘩𝘢𝘳𝘵𝘴, 𝘥𝘪𝘢𝘨𝘳𝘢𝘮𝘴 𝘢𝘯𝘥 𝘢𝘥𝘷𝘦𝘳𝘵𝘪𝘴𝘦𝘮𝘦𝘯𝘵𝘴.'
Maam Cross was one of the stations on the line, built to serve the locality when the line opened in 1895, and closed along with the rest of the Galway – Clifden railway in 1935.
The platforms, goods shed and water tower remain, but the very fine red-brick station building was demolished just over fifty years ago, despite having survived the closure. The station is now the site of the revival of trains in Connemara through the Connemara Railway Project.
Railtours Ireland First Class have organised a 'SPECIAL DAY TOUR TO CONNEMARA' in conjunction with book launch of "Rails through Connemara",
What's included in the day tour?
Return Rail travel (Dublin – Galway)
Reserved seats on-board
Signed Copy of Jonathan's book "Railways through Connemara".
Special coach tour to Maam Cross, visiting former stations Moycullen, Ross and Oughterard.
Admission to book launch (book launch is scheduled for 15:00)
Lunch available at Peacocke's hotel (Lunch not included)
Light refreshments at book launch.
Tour fully hosted from Dublin to Dublin.
Day tour can be booked via https://railtoursireland.com/rails-through-connemara-day…
Please note all traveling to this event must be fully vaccinated in accordance with Government Covid-19 regulations in relation to indoor dining.